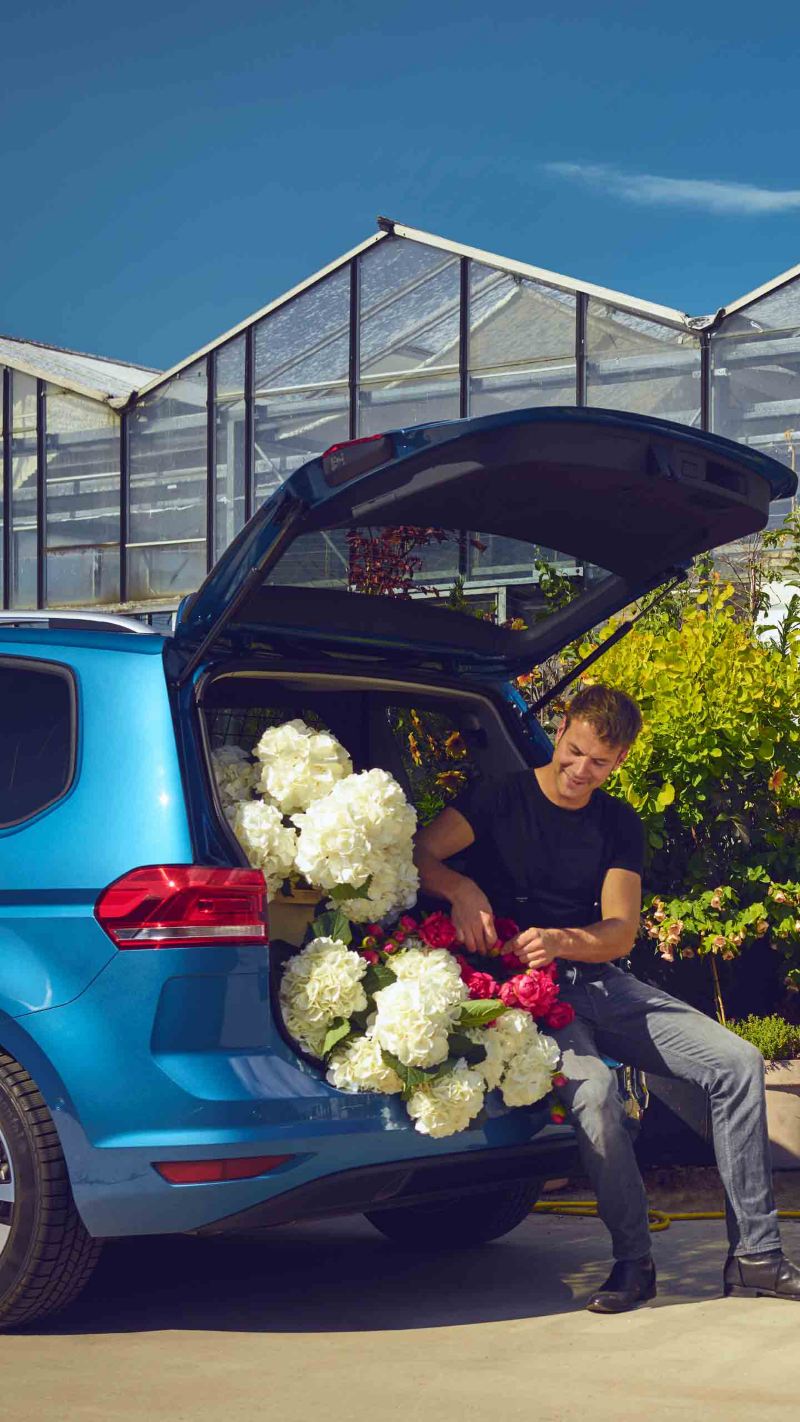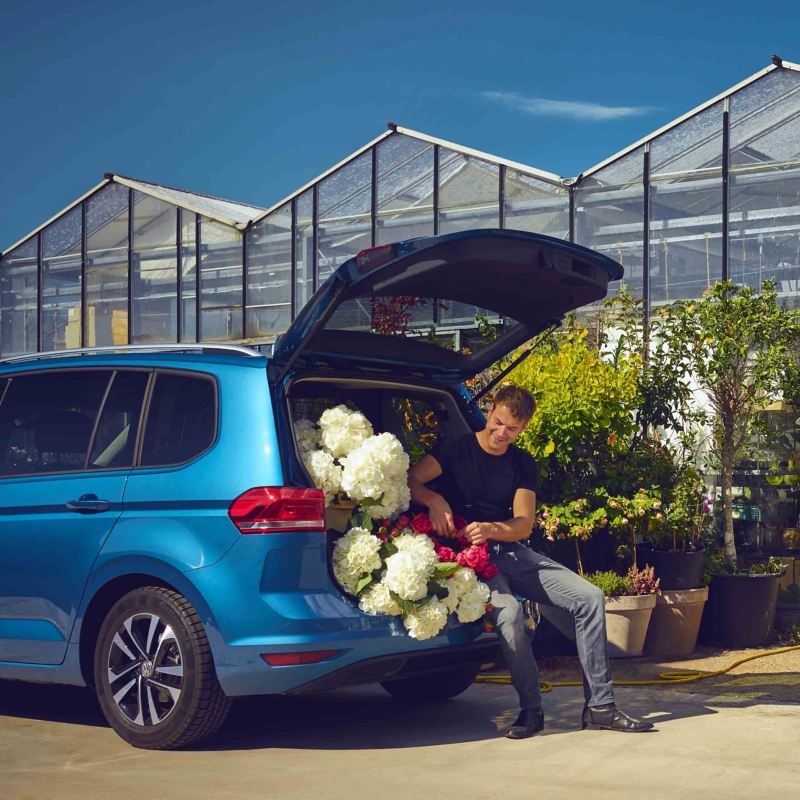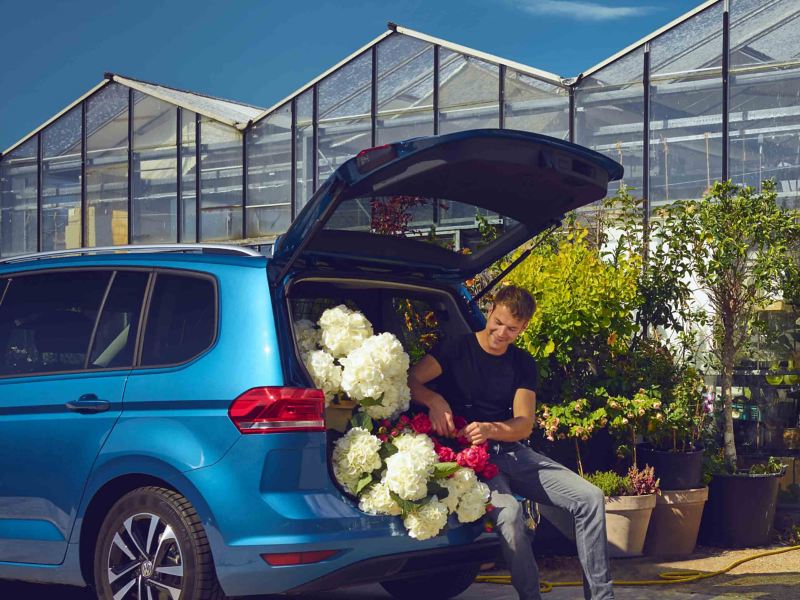 Words by
 Redaktion loved GmbH
Photography by
 Robert Grischek
How do you convey emotions? By allowing flowers to do the talking. We visited florist Alexander Posthuma in Amsterdam and helped him deliver flowers – with the Touran, whose space concept is also perfectly suited to very particular requirements. Just like Alexander's characterful bouquets.
The little flower shop looks just how you'd imagine a perfect little flower shop to be. A narrow old brick building in Amsterdam's antique and artistic district around the Prinsengracht. In front of a double window stand variously sized pots. They are casually planted, not too neat: with succulents, grasses, lupins, dahlias, cacti. An orange tree towers between them along with a large vase of frizzy mallows. The first rays of morning sunshine have just crept over the rooftops; the red doors of the shop are opening. Alexander, holding an enormous bunch of flowers, and Melissa, carrying a camera in her hand, come rushing out. He is tall, calm and blond; she is a small, lively brunette. She pushes him gently but deliberately in front of the neighbouring door. There, she asks him to hold the flowers a little higher and takes a photo. Done. The bouquet can now be delivered in the Touran – and, not much later, the resulting image is "liked" on Instagram by eager apbloem-Follower.
What's the nicest compliment? If you buy someone a bouquet and the recipient says: those are exactly the kind of flowers

I

like – you've got me just right.

"Melissa's work makes all the difference. She takes our work to the outside world. She makes our little flower shop into a big one," Alexander Posthuma explains. He is the florist and floral artist behind A.P Bloem; Melissa Whelan is the stylist and brand manager. Thanks to an elegant website with gallery, an online shop and an Instagram account that is updated daily, the shop window at Kerkstraat 151 also becomes a virtual showroom with nationwide delivery service. "But we still think it's important to keep an actual shop. The contact with the neighbourhood means a lot to us; a lot of customers have since become friends," Alexander tells us. The "flower wizard" prefers to know his customers personally; in this way, he can tailor the compositions to the recipient especially individually.
What sets the recipient apart? Which colours does he or she like? Which landscapes, trips, melodies or scents? No two bouquets are alike. Because each customer is different. And ultimately, nature – whose products Alexander relies on – does not always reproduce things in the same way. A particular rose, for example, grows all year round in Colombia, but its characteristics can vary depending on the season. Maybe it has rained a lot. Or the temperatures were lower than usual.
The wealth that the world of flowers has to offer is something we experience while we accompany Alexander on a typical shopping trip. The largest flower business in the world can be found in Amsterdam: Royal FloraHolland. Across an area of 1.5 square kilometres, 40,000 different varieties of flower are auctioned to customers from across Europe. The logistics behind 100,000 sales activities a day are a lot more complex than those of the nearby airport, Amsterdam Schiphol, explains Alexander, while we head to the site.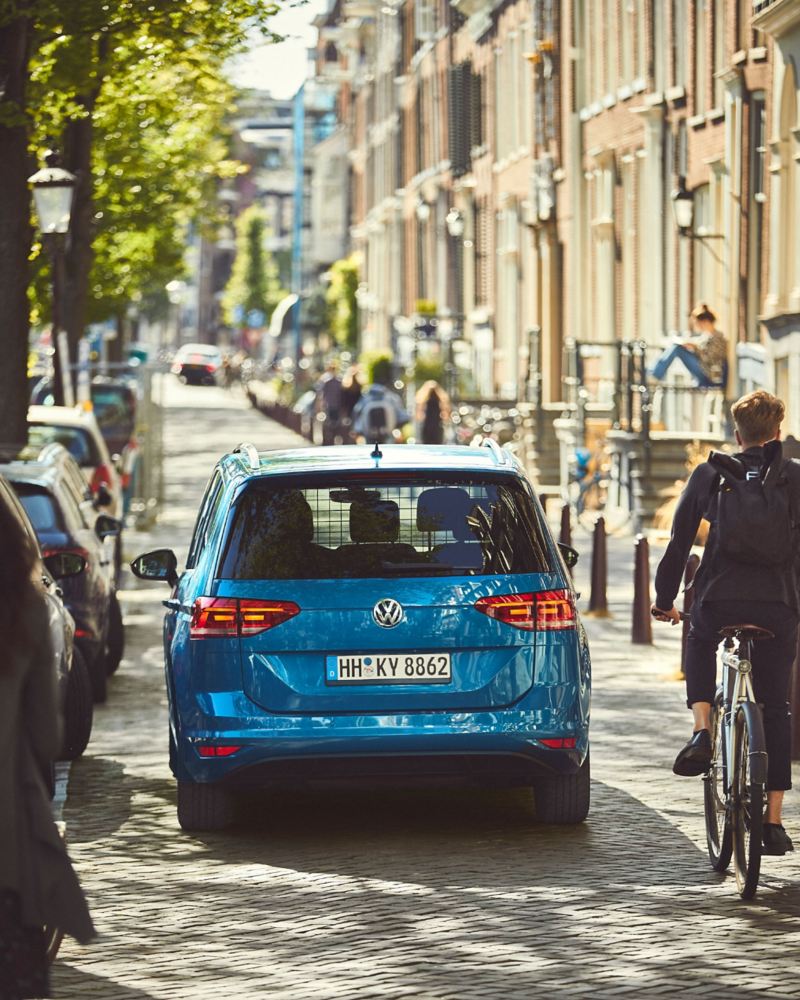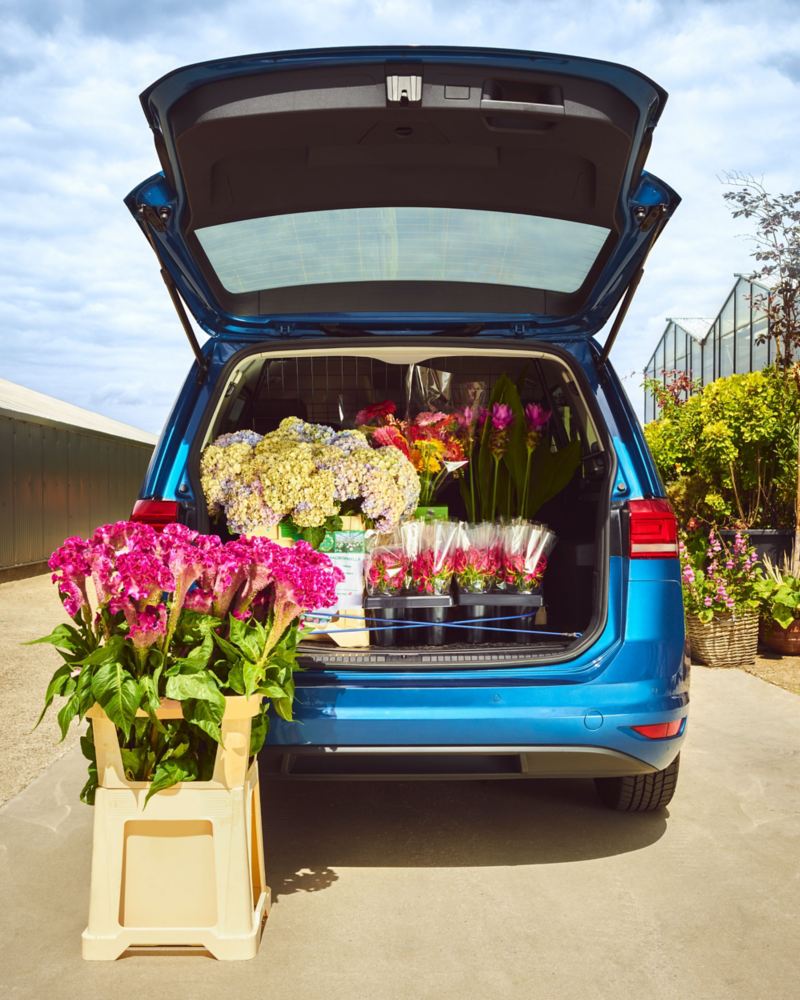 Alexander directs us and the Touran across huge car parks and through imposing storage buildings. We then find ourselves at the entrance to a cold store: at Alexander Posthuma's "special dealer", as he puts it. Here, he finds flowers and plants that are rather unusual. Thick exotic blooms that can sometimes cost as much as 40 euros per item. For customers who appreciate the exclusive and enjoy a rare sight. Here at the market, Alexander also finds treasures that others would consider worthy of composting. Giant clumps of thorny rose shoots without flowers; cabbage that has grown on stems towards the sun: forgotten plants – half dried out, sold at a discount – that Alexander later repots in his own greenhouse and just waits to see what happens. These experiments are what set his creations apart. He combines unusual colours. Lush umbels with delicate grasses. Long stems with short ones. Bushy hydrangeas with knobbly plants from arid climates. Maybe a paper rod or metal feather is the missing detail? The ideas come from making.
The Touran demonstrates why it fits so well into Alexander's daily routine while it is being loaded. If it is only flowers coming along, like today, Alexander needs space for protruding buckets full of hydrangeas, roses or vetches. Or for crates with small vases and posies for weddings and hotel orders. On other days, several people have to come along for the ride. For example, for large events where the entire A.P Bloem team is required. In Amsterdam, parking spaces are few and far between – so carpooling is always a good idea. The Touran can fit up to seven passengers. Its big advantage: despite its generous, flexible seating and storage space, its size is city-friendly, and it is highly manoeuvrable.
My desire for perfection, my creativity and my quest for originality are always with me.

Alexander is rarely in the same place for any length of time. He mostly shuttles back and forth between the flower shop, the flower market and the greenhouse. The latter is in Alsmeer, to the south-west of Amsterdam. This is his production facility, ideas lab, warehouse and oasis of relaxation all at the same time. His piano is even here. With a view of nature, meadows and a small canal, he can let his creative spirit run free here. "I have to schedule quiet times myself as a matter of urgency. This place helps me with that. While playing the piano, I have to concentrate on something else. It relaxes me. Playing music, letting my eyes wander. Just ensuring that my enjoyment of flowers stays fresh by finding a little variety."
You shouldn't use the word paradise too freely. But you can easily imagine parts of it to be like the little flower shop and the greenhouse bathed in light. Emotions conveyed from this place can only be good.